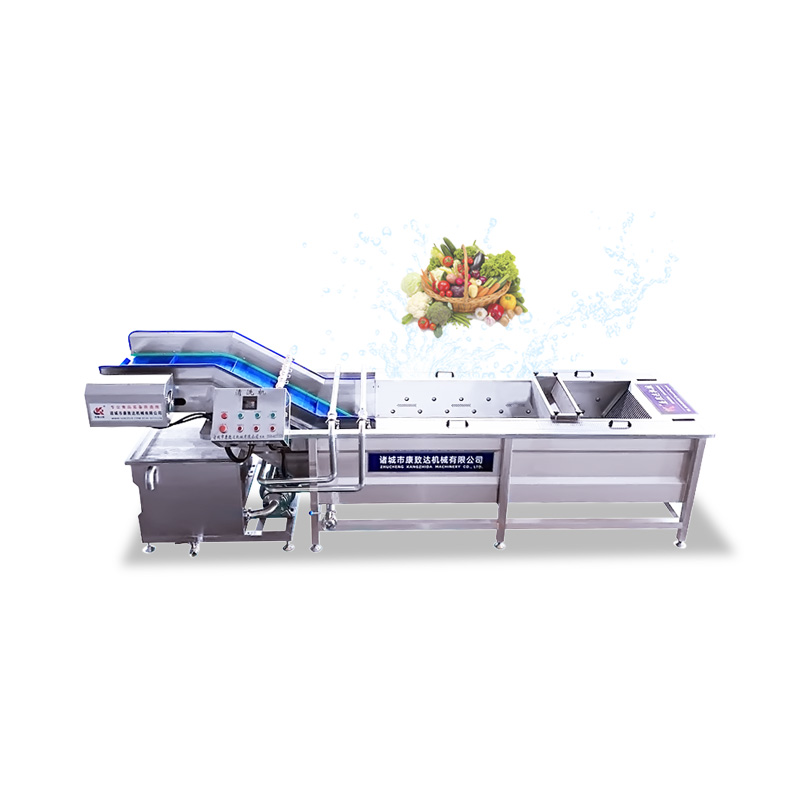 This is a multifunctional cleaning machine, which can clean fruits and vegetables, meat, and seafood raw materials. The main material of the machine is 304 stainless steel, and the conveyor belt is an engineering chainplate. and poultry and should be very widely available.
The design of this machine is coincidental seconds. The filter at the bottom allows small grit particles to sink and fall below the net, and floating impurities can be filtered out from the isolation mesh of the washing tank, allowing great filtration of the material. Its main cleaning is water impact with bubble-assisted cleaning. The size of the impact can be adjusted by a valve and is also non-destructive for soft vegetables or berries. The lifting station carries out a secondary rinsing to ensure the cleanliness of the material.
working principle:
Relying on the power of the pump to convection the water flow from both sides of the cleaning tank to the material to be cleaned, while the pipelines on both sides send out compressed air from the bottom of the cleaning tank, and the impact force generated by the rapid burst of bubbles acts on the material to be cleaned. To complete the cleaning of the material.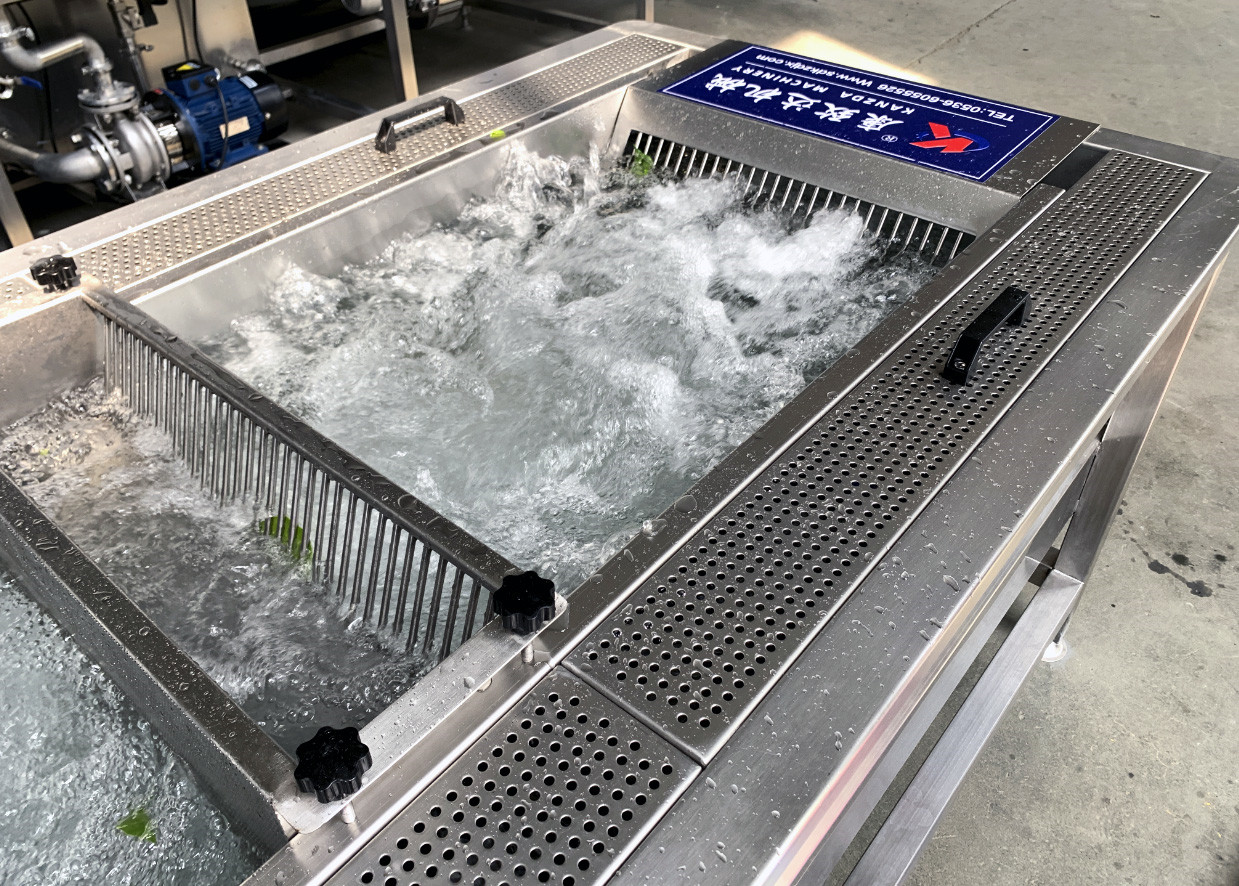 This is a set of filtering devices, which can filter some small floating debris here.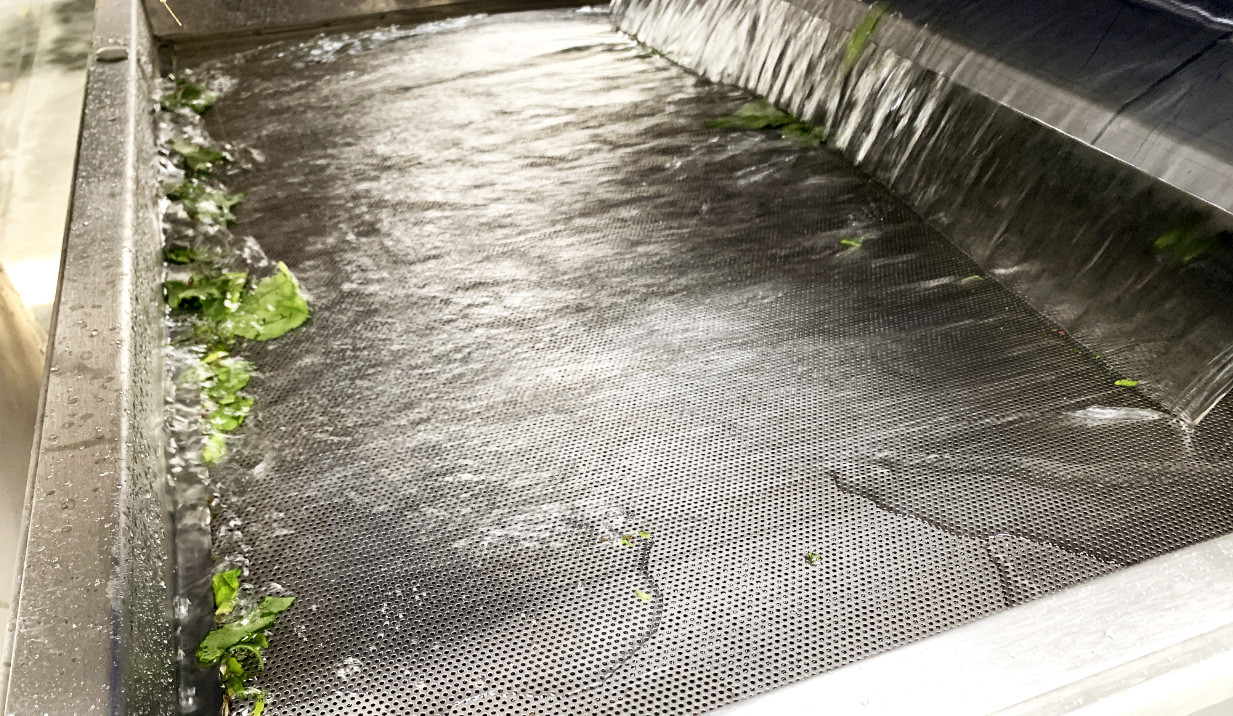 The filter screen above the water tank at the front end of the washing machine also plays a role in filtering.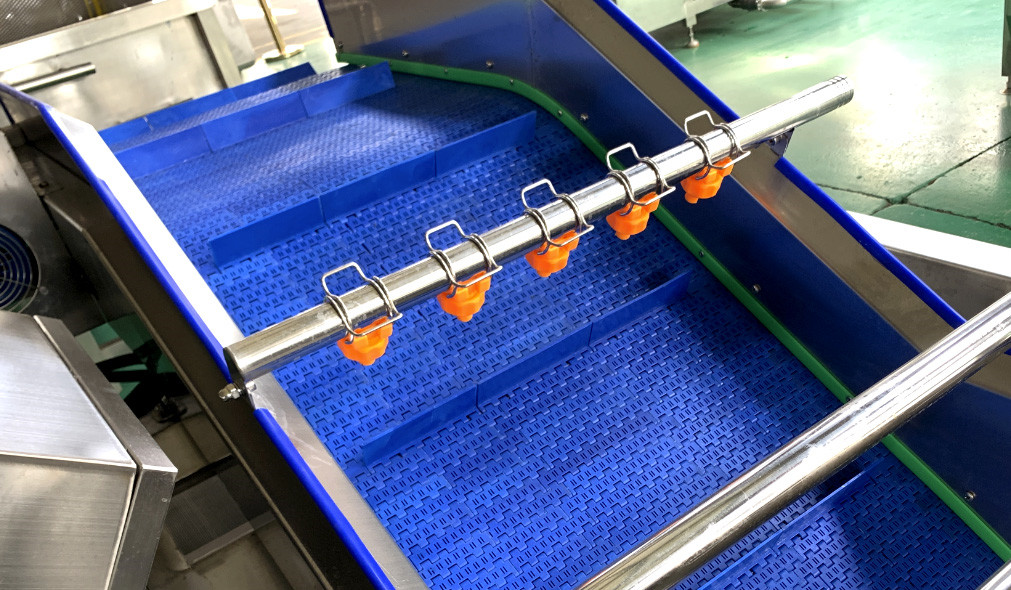 The freshwater cleans the washed materials a second time.
| | |
| --- | --- |
| Dimensions: | About L3830 x W1390 x H1330 mm |
| Processing efficiency: | 300-1200 Kg /hour (speed adjustable) |
| Cleaning medium: | Water shock + bubbles |
| Tank volume: | about 1.2 m3 |
| Washing water temperature: | Room temperature |
| power input | Total power: 2.85 Kw 380V 50Hz 3- phase |
| Cleaning pump: | N=2.2 Kw 1 set |
| Drive motor: | N=100w x 1 set |
| Blower: | N=0.55Kw x 1set |
| Water input | |
| Inlet water pressure | Standard tap water pressure 0.2MPa Flow rate needs to be greater than 1m3/hour |
| Sewage outlet | DN50 and DN25 |
Features
The plate of the whole machine is made of food-grade 304 stainless steel
Using 304 stainless steel pump head water pump, reliable quality, high motor efficiency
Solid 304 drive shaft with long life, no deformation, and no deviation
Recycled cleaning water source, high utilization rate, reduce waste
Secondary filtration greatly improves the use time of the water source. The filter screen can be removed to remove filtering debris.
Control components use well-known brand components, accurate and reliable
The internal design of the equipment is brushed and polished, without hygienic dead ends
Set observation ports on both sides of the device to observe the internal operation
There are no sharp edges inside and outside the equipment. Normal operation will not cause harm to the operator
The conveying speed is adjustable by frequency conversion, and different conveying speeds can be implemented according to different pollution levels
5、main components
| | | | |
| --- | --- | --- | --- |
| No. | Name | Brand | Remarks |
| 1 | Water pump | Yuehua | 304 stainless steel pump head |
| 2 | Transmission motor | ZD | Hypoid mode |
| 3 | Open contactor | CHINT | Authentic |
| 4 | Wire sequence relay | CHINT | Less wrong phase does not work |
| 5 | Sheet metal | TISCO | 304 stainless steel |
| 6 | Pipe fittings | Lianhe quansheng | 304 stainless steel |
| 7 | Drive chain | Guangdong | Engineering conveyor chain |