KANZDA's Crate washer is made of food-grade 304 stainless steel plates and profiles, and the conveyor system is made of special thickened chains. The washing channel is customized according to the size of the crate, which is perfectly compatible with the size provided by the customer. Most of the crate washer is operated by two people, but also by one person.
---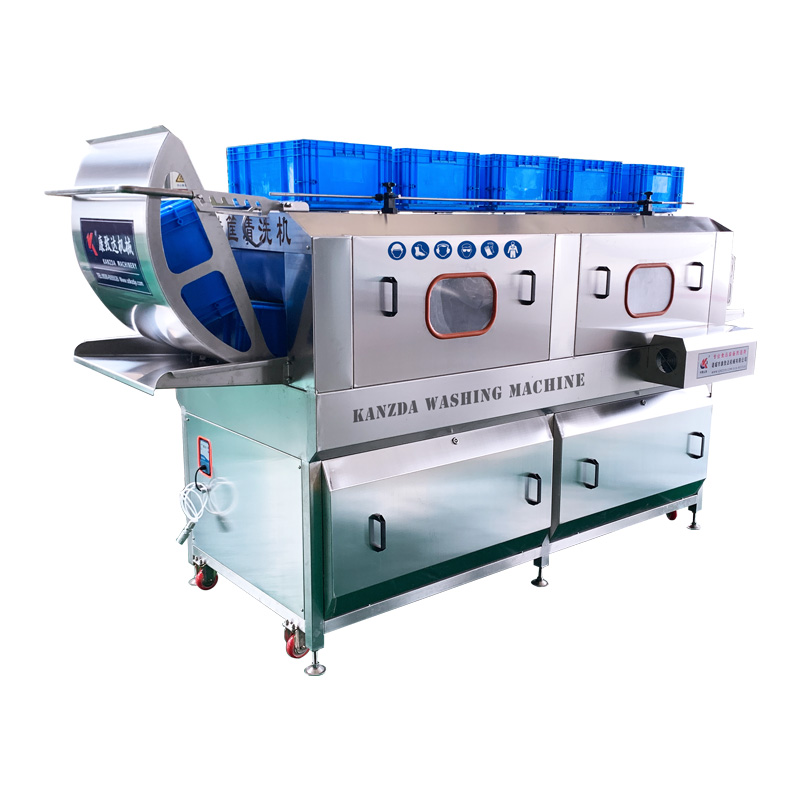 KANZDA is a professional manufacturer of revolving basket cleaning machines. The company adheres to the principle of satisfying users' needs with quality. We do not make shoddy products. Each product is like our own children. We must first satisfy ourselves before leaving the factory.
With the development of society, which egg tray cleaning machine is available, and the pace of life is accelerating, more and more industries have developed to higher efficiency, such as some using turnover baskets, food factories, bakeries, pig slaughter, Poultry, duck and rabbit slaughtering and processing industries and large supermarkets, clean vegetable processing, etc. have gradually developed from manual cleaning baskets to turnover basket cleaning machines. Now the workers are paid high, the cleaning is not clean, and the weather is unwilling to do it. The washing machine has a good cleaning effect. The current revolving basket washing machine is clean and fast. The Ningxia egg tray washing machine can also play a role in sterilization. The basket washing machine has a wide range of applications. It is used in the turnover basket cleaning machine in the turnover industry; the food box cleaning machine in the food industry; it can also be used to wash very dirty chocolate trays. The hardware industry can be used to clean processed parts because the cleaning of the baskets requires Put a lot of labor, and the degree of cleanliness also has certain limitations, in order to consider the purpose of customers, Zhucheng KANZDA Machinery Co., Ltd. absorbs the advantages of advanced equipment at home and abroad, and tailor-made feasible equipment for you.
The material of this machine is SUS304 stainless steel, the appearance is beautiful and generous, the welding joints are polished, and the necessary areas are added with warning signs, so that the operator can ensure personal safety when working.